What makes us different ?
For over 20 year we have been renting 4x4 cars at economic rates and helped plan thousands of individual dream vacations as a free compliment to your rental experience. In addition to getting a well-maintained car and a 3 languages 24/7 roadside assistance, you will receive individual insider tips from our travel experts that know our country by heart. Those are only few of the reasons why we are rated the number 1 car rental agency in Costa Rica.
Trip Advisor

Trip Advisor Certificate of Excellence for 5 years

Maintenance

Constantly & perfectly maintained vehicles

Customer Service

Friendly & trustworthy customer service

Insurance

Full cover insurance included in rates

Mileage

Unlimited mileage included in rates

Always with you

Roadside assistance included in rates
4×4 Car Rental
Do you want to discover remote places in Costa Rica with the comfort of having a 4×4 car?
Car Rates
Ask for special long term deals
* full cover insurance with deductible included
FAQ
Save some time during the rental and read our FAQ
What documents do I need for the rental?
Please bring your: Original passport Driver's license (does not need to be the international one, you can drive 3 months with your national license in Costa Rica) Credit card (please make sure you know your PIN)
What is the min/ max age to rent a car with Wild Rider?
To rent a car with us, you will need to be at least 21 years old. However, drivers under 25 years old are not able to purchase the 0 USD deductible full cover insurance and will have a deductible of 700/900 USD. Maximum age to rent a car with us is 70 years.
Safety Deposit
We have 2 types of safety deposits, one for the small cars US$700 and US$900 for the big cars. The safety deposit is done via a check in with a credit card. The funds will get blocked until you return the car, if everything is ok with the car then we unblock those funds while you are returning the car. It normally takes 3 up to 5 business days until you have the funds back available on your account. We used to accept debit cards, but we have had cases where it took up to 3 months for our clients to get the funds unblocked, the results are unhappy or even angry clients blaming us for not returning the funds in time. Therefore, we decided to only accept a credit card safety deposit or in some special cases you can also leave the deposit in cash (however this needs to be discussed with management before the rental)
Which credit cards do you accept?
We accept following cards: MasterCard, Visa, American Express, Diners Club and Discovery. Some of those offer car rental insurance, however it would be your responsibility to check the coverage before renting a car with us and we are not responsible in case this type of insurance gets declined by your card provider later on.
Parking Tickets and removed License Plates
Getting a parking ticket in Costa Rica might be way worse than you think. In a lot of cases in addition to the ticket, the police officers remove the license plates of your car. If you are unlucky, they will tow away your car and you will need some help to locate it. We advise our customers to park at private and safe parking lots wherever possible, although we know that this is not always possible. Parking on the side of the street is allowed unless you see a sign clearly stating the opposite or you see a yellow line next to the street. Please keep in mind you will be in Costa Rica, so it might be that the yellow line was painted ten years ago and now only has a couple of yellow spots left, this still counts as no parking under any circumstances. Police officers know the tourist hotspots and especially like to hand out tickets and remove license plates in those areas, since its normal that they will find 5 to 10 cars parking next to a yellow line near the national parks. So those couple of USD will be worth it, as this allows you to really enjoy the park or beach without having to worry about your belongings and car. Receiving a parking ticket and having the license plates removed is one of the worst things that can happen during your vacations and it will end up affecting both parties seriously. You will be responsible for paying for the ticket, but unfortunately also for much more! Depending on the police officer, they will decide if they tow your car away and leave it at some police deposit or if they give you the permission to drive back to our agency (this last point is very hard to achieve). If we need to tow the car back to San Jose, this is not covered by any insurance and you will have to pay for it. Unlike most of our competitors we will not charge you the full price of every day that we do not have the car/ license plate. But you will need to pay an administration fee for the hours we need to put in, to get our license plate back. In some cases, this can take up to 1 month and a lot of work from our site. As this process involves 3 different government agencies, which have each their own handling time and they will use this time to not get themselves stressed. Wild Rider suffers from a big economic impact for every car whose plates gets removed, as this means up to 1 month without being able to rent the car! Since this is not covered by any insurance, we need to charge you for your mistake, so please be extra careful when checking for place to park the car! As something a simple as wrong parking might end up consuming your vacation budged.
What is not covered by the insurance
There are several actions that will totally void your insurance and that way you will be 100% responsible of the car, no matter what insurance package you have chosen. River crossings This is one of the big No, if you feel like it, you can go for it. But please keep in mind that this little adventure might cost way more than your vacation and no insurance will cover you! So better drive over the bridge or take the 20 minutes detour. Every year people drown as they get dragged by growing rivers, please take this serious. Wild Rider does not cover any damages which occur due to river crossings because our insurance policy does not cover it either. So if we are not covered, unfortunately you are not covered either. So before ruining your vacation and putting your life into danger, please take the safer route. You might think that all this is exaggerated but we are speaking out of 22 years of experience and had to recover cars from the button of the ocean and several rivers. If you really want to do it, keeping mind that you will get charged if things don't go as planned (it happens really fast), please walk the river first in order to see where its low enough and to avoid driving into an underwater hole. Please also be aware of the crocs we have in most of our rivers! Driving under the influence The title explains itself, if you are driving under the influence of drugs and/or alcohol you are not covered by any insurance, and if you get stopped by the police chances that you end up in jail for a couple of weeks are very high. If somebody gets hurt, you will disappear at least several months or years in a costa Rican jail. Please keep in mind that 0.1% of alcohol in your blood is already over the allowed limit, this means (if you are a regular drinker you can drink 1 beer per day, maybe for the sunset. If the cocktails and the weather are too inviting to resist a couple of drinks more, then we recommend leaving the car at the safe hotel/ restaurant car park and pick it up the following day. Disrespecting traffic rules I think that this point needs no further explanation. Just check out the traffic rules, in case you are not sure about max speed, overtaking, etc. But just for the lazy ones, if you run over a stop sign, are driving over the speed limit or a red light and have an accident, unfortunately the insurance will not cover the accident. Off road Driving Every time we explain this exception our clients give us a strange look. Don't worry you are allowed to drive on the dirt roads in Costa Rica, that's why you are renting a 4x4! But please don't drive up a viewpoint and on the way back try to fight your way through the jungle, since you don't want to take the same and only road back again. So, our rules are, if there is a road then you can drive on it, even though it is in rough conditions. Please never drive on the beach, this is completely illegal and a free card for a police ticket. Not having an accident report from the traffic police If somebody is driving that is not stated on the rental agreement.
Can I leave the country with my rental car?
Short and simple: NO Our cars are only insured in the national territory, once you leave the country you will lose all insurance on the car, anyways this is not allowed at all. Since its not under your name, you will get stopped at the border, the car will get confiscated and it will get expensive for us and then for you. You might even get detained for an attempt of car trafficking.
Issues with the car
We do our best to have our complete fleet in excellent mechanical conditions. However, it can happen that suddenly a perfect working car stops driving. No need to panic, Wild Rider has you covered. Please do not try to get help yourself and fix the car yourself. Call our office (in case its during our office hours 8am-16md) or your emergency contact (numbers are on your copy of the contract or on our website). Quickly explain what happened and if possible, try to send photos via WhatsApp so we can get (literary) a better picture of what is happening. Our mechanics are all great off-road (on bike and car) drivers and can reach every part of Costa Rica. Most of the times we send one of our experts to make sure the problem gets solved without any further issues. If you are very far away and we do not want you to wait for us 8 hours in the middle of the jungle, we can send you one of our external mechanics. We have a network all around the country, so no matter where you are, help is near. If we cannot fix the issue right away you get a replacement car, so you can continue your adventure without any further delays. In case you did take the full cover insurance, as you wanted to save some money, don't try to go to a local mechanic and get your car fixed there (so we wont notice the accident/dent, etc.). Trust me, we will notice this quickly. Tell us right away what happened and then we fix it in our own workshop. We do not accept 3 party's reparations, as they use most of the time cheap material, use McGuiver techniques with way to much duct tape to be safe and we need to end up doing the job again and will charge you for it. Be honest, tell us what happened, and you will see that we will treat you fair, that is the reason we are rated as one of the top car rental agencies in Costa Rica.
Tire Change
The only part where we will need you to solve the issue, is when it comes to a flat tire. All our cars have a replacement tire and tools, so please roll up your sleeves and change the tire yourself. Drive to the next service station or llantera (tire shop) and ask them to patch the tire for you. If you don't know how to change a tire, some friendly Tico will stop and help you out if you ask nicely. In such a case 2000 colones or a cold beer are always much appreciated.
Is it safe to leave my car parked at the beach/ near a park?
Yes and no. What I personally do when I go to the beach, is that I leave all my stuff in the hotel and just grab my cooler, a towel and something to change after surfing. If the car is pretty much empty and no key is visible, its not attractive for the local thieves. Stealing a car is way to much trouble for them. However if you leave your sunglasses, cellphone, laptop, or some luggage in the car (even you hide it under some towels) and you are at the park or in the ocean, chances are very high that you come back to an empty car with a broken window. Getting your passport and wallet stolen during your vacations is not the best scenario, so leave all your valuables in the hotel, just take your drivers license with you and you should be safe.
Honking and Lights from other Cars
Ticos have their own car language. If you let somebody pass at an intersection or slow down to let somebody into your lane, and they honk twice or three times, that normally means thank you. However, it could also mean that somebody is overtaking you or that some driver just saw a pretty woman somewhere. If the cars from the other direction are showing the head lights, this normally means be careful. A lot of times traffic police is ahead, so please make sure you are respecting the speed limit. It can also mean that there is a road block, fallen tree, etc. on the road. If you have surfboards on the roof, make sure they are still attached correctly and that all doors are closed properly. If you are driving at night, make sure you have your light turned on and sometimes it means you forgot to turn of the head lights and that you are blinding the other drivers.
Can I rent before or after your business hours?
Of course, we have a lot of people arriving late at night or early in the morning. If you are arriving at night, we recommend you looking for a hotel near the airport (a lot of them offer a free shuttle service) and then start your journey early in the morning and well rested. If it is your first time in Costa Rica, you don't want to be driving around at night, as it is not the safest and you wont be able to enjoy the amazing views we have all around the country. But we still offer you the option for the after/ before office hours rental which is charged with an additional fee agreed upon before the rental depending on the time.
Speed limit
Compared to the rest of the world Costa Rica has really low speed limits. Maximum speed is only 80 km/h on the highway, 60km/h on intersections, 40km/h in school zones but if there are students present max speed is 25 km/h. Speed limit will almost always be indicated with signs next to the road or is writing directly on the road. Speeding can get very very expensive, up to 600 USD for going 10 km/h over the limit. If you get caught driving over 120 km/h you go directly to jail. We recommend using Waze, so you will notice when the speed limits change, and when you are driving over the limit. The police symbol next to the road also helps you to know where you have to pay extra attention to the limits 😉.
Do I need to return the car cleaned?
Let's put that simple, you don't need to go to a car wash in order to return the car in the same conditions that you rented it. Just help us out and throw away the trash, shake of the sand of the mats and treat the car well. Then you don't have to be worried about any fees. We only charge a cleaning fee in extreme cases (pizza, salsa, sunblock/ oil stains, puke on the seats/ floor, animal hairs everywhere etc. we have had it all). In such cases it varies from US$10 up to US$100.
Please no smoking in the cars!
If the car returns smelling like cigarettes or smoke or we find cigarette buds on the floor you will pay a fine of US$200.
What is not covered by the insurance?
Personal belongings are not covered by the insurance. Luggage should not be left in an unsupervised car anyway. If there is luggage in the car one should stay with the car. Most of the hotels offer luggage storage. In case you arrive too early to check-in at your hotel you usually can already store your belongings and do what you have planned for the day. The same in case you have to check-out earlier than you would like to. Usually it is no problem to do the check-out and still leave you luggage at the hotel. Several hotels have an extra room for luggage. Once you are finished with your day activities you just return to the hotel to pick-up your luggage. Tire Change Costs for tire repairs are not covered by the basic insurance. If you choose the full cover with 0 deductible, then we will reimburse you the money for the tire change. Just fix the tire at the nearest llantera or estacion de servicio (tire shop or service station) and send us a photo of the receipt, we will reimburse you the money afterwards.
We need a rental car to drive to our destination but won't need a car there. Can Wild Rider pick the car up and return it once we need it again?
This is a request we receive quiet often. First of all, a car is often convenient to have, to get groceries on some of the nicer and remote beaches you will have to drive a couple of miles. In most cases you won't save any money if we send someone to pick-up the car. We have to charge for the person that picks up the car and delivers it again, the rate depends on the location and the time of the year. And we must clean the car. If you really don't need the rental car for a longer period, we can see if we can offer a discount for that period. All our vehicles are equipped with gps so we would see that the car is actually no being used.
Can we drive off-road?
Once in a while we get emails from clients that ask if they can drive off-road with the rental car. Our clients are allowed to drive on official roads that are paved and sometimes unpaved. Driving elsewhere, for example on the beach, is not allowed anyway. There are exceptions where parts of the road cross beaches etc.. In these cases it is, of course allowed, to drive on these stretches. In the national parks there are official marked roads, you are not alled to drive off-road besides the marked roads.
Our traveling team
We have all been living in Costa Rica for more than 20 years and have traveled a lot during this time. Morten and Moritz are passionate surfers and know all beaches, waves, which tides and swells they need and the cool places you should check out. Along both coasts. As a motorcycle tour guide, Thomas has traveled about 500,000 km by motorcycle in Costa Rica. In the years 1992-1997 he was mainly traveling on his mountain bike through Costa Rica. We look forward to sharing this knowledge and experience with you. Our goal is to organize an unforgettable and unique vacation for you.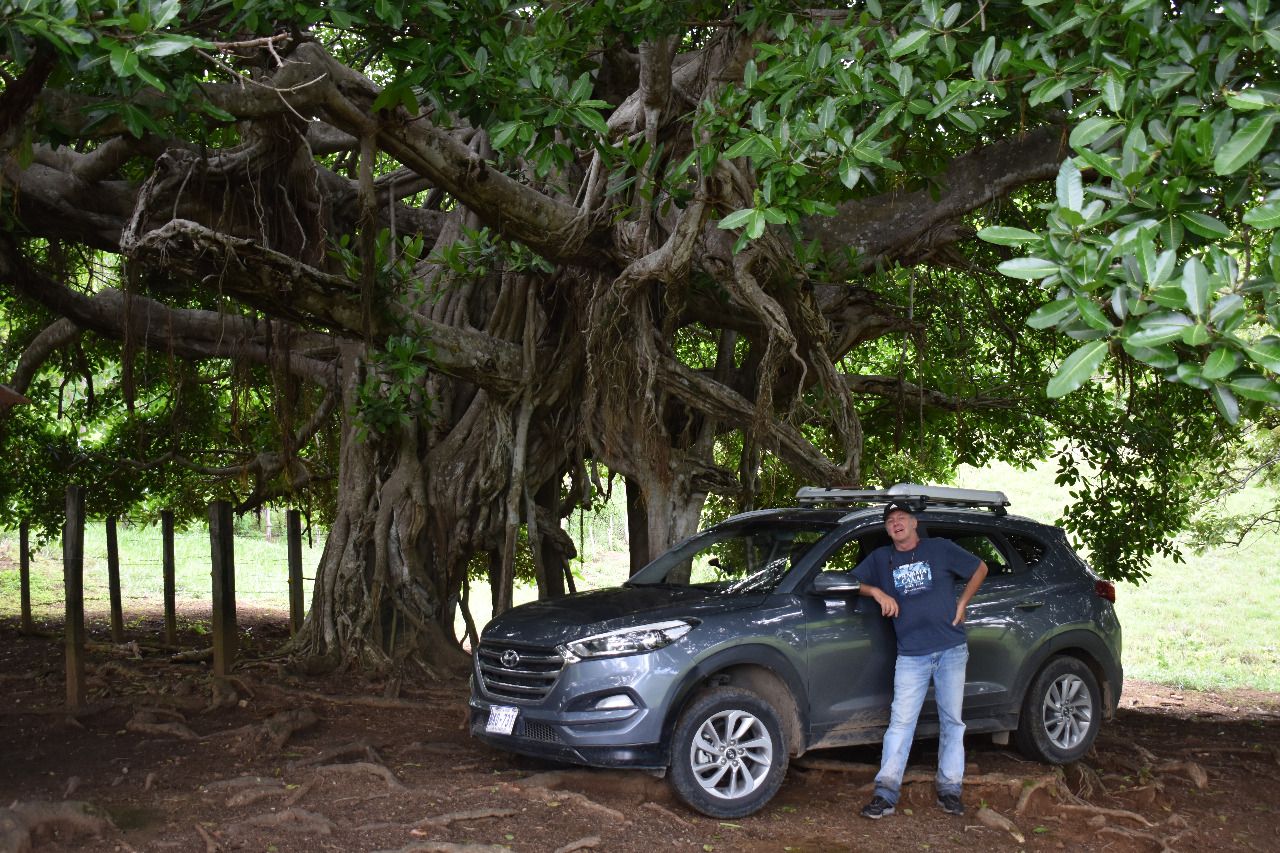 Thomas
Travel expert
Moritz
Travel expert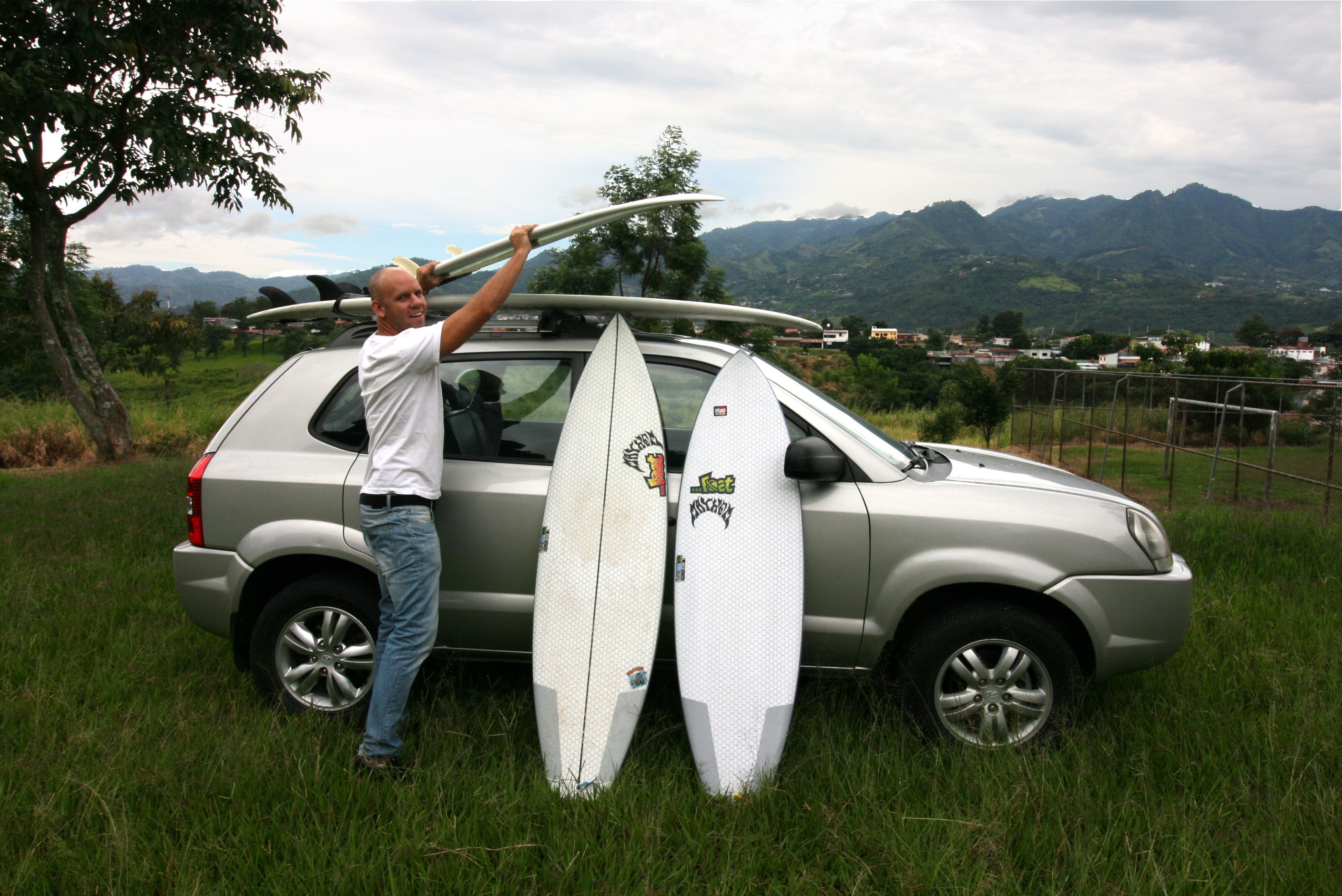 Morten
Travel expert